Whip Up Your Weekend: Saute of Catfish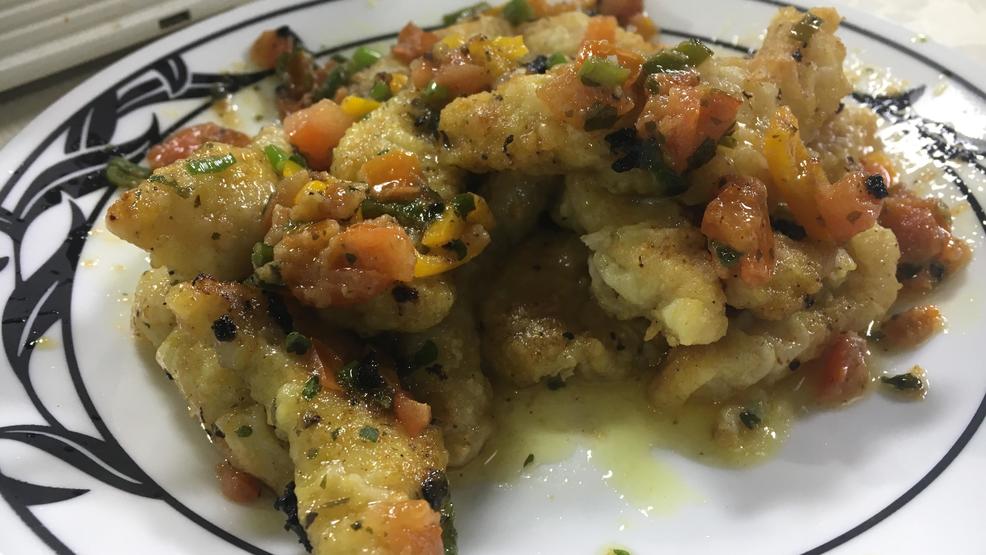 Conway, S.C. (WPDE) —
Sunday is National Catfish day, so Chef Geoff made an easy summer recipe featuring the farm raised fish.
Ingredients:
1/4 cup all-purpose flour
Salt and freshly ground black pepper
2 Catfish fillets cut into thin strips
1/4 cup canola oil
1 teaspoon finely chopped garlic
1/4 cup white wine
1/4 cup chopped green peppers
1 tablespoon chopped tomato
1/2 tablespoon butter
1/2 tablespoon chopped green onion
Instructions:
Place flour in a shallow dish or on a piece of wax paper; season with salt and pepper. Lightly coat catfish fillets with seasoned flour. Set aside on a wax paper-lined baking sheet.
Place a large skillet over medium heat. Pour in canola oil. Add garlic and saute until lightly browned. Place catfish fillets in pan and cook over medium-high heat 2 to 3 minutes or until browned. Turn fillets over and cook 1 minute more. Add wine, peppers, tomato and a pinch of salt and pepper. Cover and cook until fish flakes easily when tested with a fork.
Place fillets on serving plates over some rice or noodles. Add butter and green onion to sauce in skillet. Stir until blended and pour over catfish.
This recipe is courtesy of Chef Geoff Blount. For more information on the International Culinary Institute of Myrtle Beach at Horry Georgetown Technical College, click here.
Unmute